Hydrogen Peroxide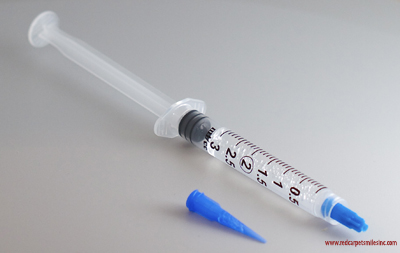 Hydrogen Peroxide
Our Hydrogen Peroxide gels are made in the USA and come in a 3 ml syringe. Hydrogen Peroxide is available in 6%,12%,17.5%, 20%, 25%, 35% and NEW 40% .
Our Hydrogen Peroxide gel is made fresh at the time of the order, and now features GSE (grapefruit seed extract) which has been found to be an effective deterrent in periodontal disease and gingivitis. It is an important antibacterial agent and lessens sensitivity.
Our syringes come with a tapered tip for accurate placement in mouth trays or directly on the teeth.
NOTE: 35% Hydrogen and 40% Hydrogen Peroxide should only be used with a gingival barrier.
To extend shelf life these gels should be kept in a refrigerator, 41 degrees is recommended. We guarantee your gels will be fresh upon arrival.
More Details

+
Quantity
10 - 29
30 - 59
60 - 89
90 - 119
120+
Price
$4.00
$3.50
$3.00
$2.75
$2.50
Please Note: 20% Hydrogen Peroxide adds $.25, 25% adds $.50, 35% Hydrogen Peroxide adds $1.25, and 40% adds $2.25 to the price. 35% HP and 40% should only be used with a gingival barrier.
These products are not intended for people under the age of 16, pregnant or lactating.

Thank you for choosing Red Carpet Smiles Teeth Whitening Professionals
Web Design by Frank Turben - Computerhelp