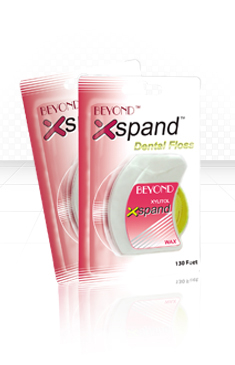 Dental-Floss
Beyond's Xspands Floss is excellent dental floss with a unique ability. No other floss expands when it gets wet like Beyond Floss. It is very pleasant tasting and excellent at cleaning the hard to reach areas between the teeth.
Beyond Dental Floss
Many customers will want to floss before they have their teeth whitened so it is a good idea to have some floss available to them. This floss will excite them and they will want more. It expands when it becomes wet like no other floss on the market. Let them try a sample of it once and they will buy it. Retail price is $4.95. Advise your clients to floss only the teeth they want to keep. BEYONDŽ Xspand Dental Floss What it is: Xylitol-coated dental floss that glides easily between teeth and then expands to remove plaque. What it does: Interlocking network of stretchy fibers changes shape to fit your teeth perfectly, expanding to clean between hard-to-reach spaces Designed to slide easily between tight teeth without shredding Coated with Xylitol to help prevent cavities Light coating of natural wax for improved grip What else you need to know: Flossing has been clinically proven to remove plaque between teeth to help prevent gum disease
More Details

+
Quantity
10 - 49
50+
Price
$3.88
$3.68
Please call for quantities more than 50.

Thank you for choosing Red Carpet Smiles Teeth Whitening Professionals
Web Design by Frank Turben - Computerhelp