Cheek Retractors
Cheek retractors come in many forms, shapes, and sizes. We recommend this one, because it is coated with a material called flexi-blue and it will not become slick with saliva as will the clear plastic ones. One size fits all with this retractor and it is very comfortable. 15% restocking fee applies to non-defective returns, all gel products must be returned within 7 days of purchase to be eligible for any refund and must not have been opened. Other styles are available upon request. Just call.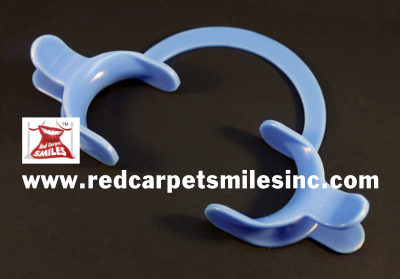 Cheek Retractor Silicone C Style
This cheek retractor is our most popular. It is made to fit easily into the side of the cheeks and is comfortable.
The plastic is a soft flexible silicone and does not slip with saliva like the clear plastic ones tend to do. Please note: there is a difference in size and texture of our competitors if theirs is dark blue. The dark blue looks the same in photos but is smaller and not ours.
More Details

+
Quantity
10 - 24
25 - 49
50 - 99
100+
Price
$1.25
$1.20
$1.15
$1.10
Larger discounts are available for larger volumes

Thank you for choosing Red Carpet Smiles Teeth Whitening Professionals
Web Design by Frank Turben - Computerhelp