Enamel Booster in Syringes
Our mineral gel is available in a 3 ml syringe with a tapered tip, or a dial up applicator with a clear barrel and brush tip.
It is excellent for reducing the high aciditiy in the mouth left from the peroxide treatment and will help to balance the PH environment in the mouth.
It will help rebuild the enamel, strengthen the teeth, and reduce inflamation and sensitivity.
Use after the whitening treatment on both the gums and the teeth.
15% restocking fee applies to non-defective returns, all gel products must be returned within 7 days of purchase to be eligible for any refund and must not have been opened.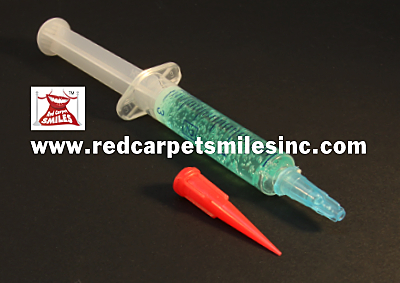 Enamel Booster in 3 ml syringe (Remineralization)
This is a remineralizing, desensitizing gel that will neutralize the acidity in the mouth after whitening. It will strengthen the enamel, and lessen any sensitivity from the whitening process. It tastes great and gives the teeth a slick finish. This is the same mineral gel as shown with a clear pen option. Use as a finish after teeth whitening or as a stand alone treatment. Available also in clear dial up applicators and for take home kits.
More Details

+
Quantity
10 - 49
50 - 74
75 - 99
100+
Price
$3.50
$3.25
$3.00
$2.75
Call for larger quantity pricing.

Thank you for choosing Red Carpet Smiles Teeth Whitening Professionals
Web Design by Frank Turben - Computerhelp