Clear Brush Twist (Dial up) Pen
These pens are filled with carbamide or hydrogen peroxide and are excellent for whitening or maintaining the whiteness of the teeth while on the go. Especially easy to carry and use after drinking red wine or eating staining foods. 15% restocking fee applies to non-defective returns, all gel products must be returned within 7 days of purchase to be eligible for any refund and must not have been opened.
Just twist the barrel until it clicks and the gel will be forced into the brush tip. These pens can be used as a treatment under a light or just appplied anytime.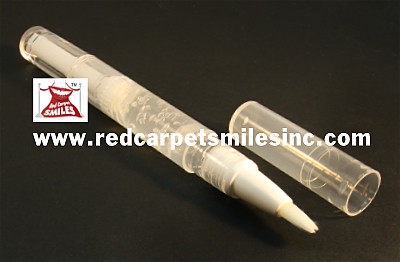 Clear or dial up applicator brush pens. AKA "twist pens".
A whitening twist pen which is excellent for chair side customer application or when the customer needs to apply the gel themselves. It can be filled upon request with any of the carbamide or hydrogen peroxides desired, or enamel booster. The pen is 2 ml and is usually enough for three 20 minute sessions. This brush should be used in conjuction with a cheek retractor.
Please select your choice of fill.
Price $4.75
* Quantity Pricing Available. Follow link for details.

Thank you for choosing Red Carpet Smiles Teeth Whitening Professionals
Web Design by Frank Turben - Computerhelp