Do you need a solid chair and stool? These come in black or white. Make sure your color selection is correct on the checkout page. We are not responsible for the wrong color selection. The chair and matching stool are not eligible to be returned for a refund.
The most popular chair used for the whitening business and at a great price. This chair even has a paper towel holder in the back.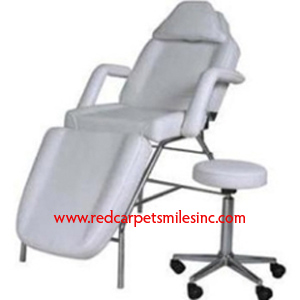 RCS Facial Bed and matching stool
Available in White or Black. This is the combination that is most popular among all the whitening chairs. Please call for delivery as this is a product that is over the weight for USPS delivery. It must be drop shipped. Call 469.231.9319.
More Details

+
Price $295.00
Color availability: White or Black. Make sure your selection is correct at check out.

Thank you for choosing Red Carpet Smiles Teeth Whitening Professionals
Web Design by Frank Turben - Computerhelp